What is SEO-friendly content and why is it important? Where is the limit between helpful and spam? The answers to these questions are essential to producing high quality, high ranking web content.
What is SEO-friendly content?
Basically, SEO-friendly content is the type of content that is both interesting and helpful for your blog readers as well as attractive for search engine spiders, which leads to better rankings.
Think of this kind of content as the intersection of publishing high quality posts with the search user's need to find that relevant, quality content. It's the most basic search engine promotion you could do.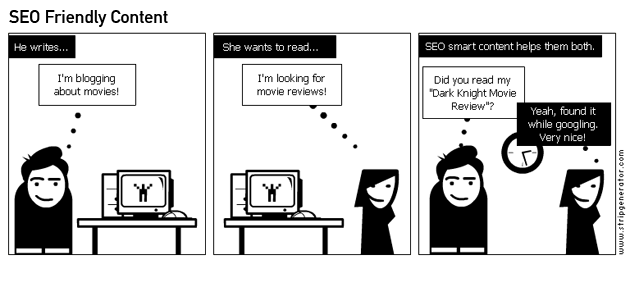 Creating SEO friendly content is by no means an easy task, nor a short term one. The "maintenance" is very important and insures that your search engine rankings are at least kept, if not improved.
Since optimized content can be of great help when it comes to blog and community growth, relevant organic traffic, bounce rate improvement, awareness and much more, you can imagine that these kinds of services don't come cheap. But, don't worry, with practice, you'll find out that it's not that hard to transform your articles in pretty decent SEO-friendly web content.
Effective optimization techniques
The first and most important thing you need to consider is your readers / future readers. Try approaching from your readers' perspective. Is your content something of interest? If so, is it presented in an easily readable form?
Targeting simple keywords
The next step is to select the appropriate keywords to target in the optimization process. When it comes to keywords, the best thing to do is think natural. The more natural and simplistic way to express a "need", the more chances that keyword will be one with a high level of searches.
Look at the little comic strip above and consider this. A publisher writes a review of the "Dark Knight Movie". Users that want to see that movie will most likely do a search for a review. Which of the following keyword phrases do you think will perform best in searches?
Review of the Dark Knight movie;
Dark Knight movie review;
Dark Knight review.
If we take a look at the results suggested by Google's Keyword Tool, we'll find the following statistics based on approximate average search volume:
Dark Knight review – 14.800 searches;
The Dark Knight review (variation) – 8100 searches;
Dark Knight movie review – 880 searches;
Review of the Dark Knight movie – irrelevant or very few searches.
So, you see how simplifying the targeted search query is more likely to put you in the spotlight for a higher amount of organic traffic. Repeat the process until you come up with a list of related keywords, to help support the main keyword throughout the post and to avoid unnecessary repetitions and stuffing.
Using the selected keywords
Now that you have a primary phrase to optimize for and a few support phrases, make sure to spread them seamlessly throughout the article. When it feels natural to do so, use bold text or italic (emphasis), but don't simply bold out entire blocks. That will only hurt your optimization level.
Start from the beginning by using your main phrase in the first sentence or paragraph. Depending on the length of your post, you can try repeating a few times, as long as it does not sound bad for a reader. Repetitions can drive away your visitors and search engines both, as their spiders are "trained" to think and read based on a human model.
Use your main phrase in subtitles and, obviously, in the post title too. Add it to the post's Meta tags, along with the support keywords. I've explained before how you can fine tune your blog to turn your post's title into a SEO title.
If possible, try adding pictures (relevant for your readers) and use your keywords as ALT text for those images. Sure a search engine spider will not see the actual image, but image oriented spiders like Google's Image Search will definitely be on the lookout for that alternate text.
You can read one of my previous articles for more tips on keyword optimization.
Conclusions
SEO friendly content is the best investment you can when it comes to your blog's search engine promotion. It generates natural results with real people reading your posts, based on their needs. And when that happens, the path to conversion is at least half way taken.
Regardless to what some people think, there's nothing wrong with helping out good content find its way to interested search engine users, as long as you don't go overboard and turn into search engine spam. The line is thin.