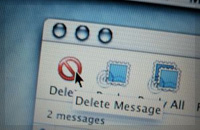 Hello everyone! My name is Alex. Most of you, readers of Blogsessive know my name and clearly know what this blog is all about and that's great. Others don't and that's fine too. But there are those cases in which not knowing who I am is a bad thing, and yes, now I'm talking to you Mr./Ms. Internet/Email Marketer. Unfortunately, I have absolutely NO idea what your big business opportunity was all about because I have just deleted your email. Why, you ask? Because…
My name is Alex
Not admin, not webmaster. I have a name and if you really want to reach ME, think of me as a person with an identity. I am not defined by my status in regards to how I technically operate this blog or website, but by my thoughts, actions, writing and virtually all that in the end constitutes my identity in the eyes of my community. You can start by simply using my name.
My blog is called Blogsessive
Not http://blogsessive.com, not 'your website' – the one that you 'stumbled' across by some sort of accident and decided to pitch me. Call me arrogant but I love my blog and have put a lot of work and passion into it. Show me respect by using its name, just like you should when addressing me. It is part of my identity and if you did not get it by now, I couldn't care less about what you have to propose as long as you show that you have no idea who I am, what my blog is about and I'm basically just another ID in your database of contacts.
You did not pitch me with a win-win
The second you decide to pitch me it is clear that you have something to gain. In case you don't realize, like it or not most times that puts me in a position of power. Make sure you clearly state what you offer and make sure it's at least decent. Under certain circumstances I will promote stuff out of my own belief because you pointed it out, but statistics say that most likely I'm not running a charity, nor pushing big amounts of BS to my community. Thus, all you have to do is to follow these simple rules:
Offer something of value to me and my community;
Offer something of virtually the same value with what you are asking for;
If you cannot provide any of the above, make sure you state why and think of alternatives.
[adsenselinks]
You did not pitch me with something fit
If you take a moment to browse my blog, you'll see what it is all about and see if your proposal fits in. I will not go out of my way to help you with something and by doing that, disrupt the flow of this blog. Make sure you pitch me with the right stuff.
So, the next time you pitch me via email and don't get a reply, know that it went straight to the trash bin and that's why I have just deleted your business opportunity email.
What should you do?
Other than following the 4 common sense rules above? You could first consider the following relational pattern: Me <-> My blog <-> My community. If you get that, I'm sure you'll be able to personalize your business opportunity email in less than 5 minutes and chances are that I'll read it and reply. Also, let me give you an example of how it's done.
A couple of days ago I was approached by a person offering a subscription to a pretty major website, asking for a review of their service. They used my blog's name in their pitch and their offer clearly stated what I had to win out if it. A decent free subscription. Yet, their service is not that new to me as it relates to my job of over a decade – a web designer. Being a member of similar services, out of courtesy and respect of their approach I replied back asking for a similar subscription to offer one of my readers too in a contest after I'd review their site. Of course, we came to an agreement and everyone will be happy. It's just a matter of common sense. And with this, stay tuned to Blogsessive in the next couple of weeks as I'm preparing the contest I previously mentioned.
Photo credits to Dan Mulligan