I'm excited to be speaking at the upcoming Banking Disrupted Silicon Valley Leadership Summit, which will take place from Tuesday, April 19th to Thursday, April 21st at the Silicon Valley Crowne Plaza in Foster City. Organized by the Silicon Innovation Center, this event is focused on the rapid changes occurring in the banking and financial services industry due to the emergence of many fintech companies that are looking to disrupt these industries and question the traditional processes that are not necessarily still serving consumers and businesses well.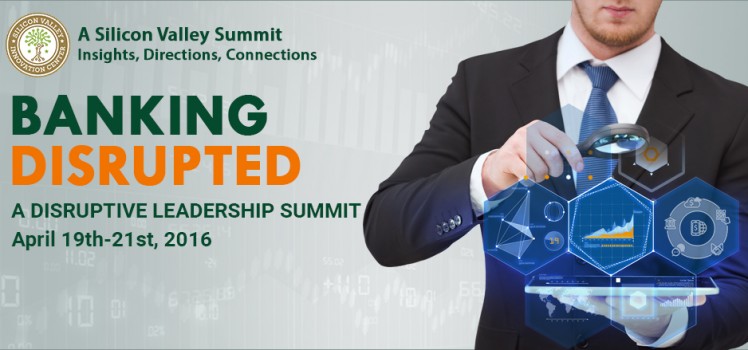 The event will include a wide range of banking executives, fintech innovators, and investors who have been playing a role in these dramatic changes as well as those interested in joining the ongoing dialogue. Over the course of three days, there will be numerous keynotes and panel discussion about a range of relevant subjects related to disruptions in the banking industry as well as opportunities for networking to learn and share ideas. This includes subjects like the potential end to traditional banking models, fintech trends, mobile ecash banking, customer engagement,  how to regulate bitcoins and other new financial transactions and fintech for small business.
On Wednesday, April 20th, I will participate in a panel discussion that is focused on blockchain and mobile payments. The focus is on the challenge banks face in determining if cryptocurrency is a threat or if it is something that they can turn into an opportunity to evolve their old processes and make significant improvements to how the financial industry works. The discussion will include how blockchain, which is also known as distributed ledger technology, is evolving and how it can serve the needs of banks in terms of mobile payments and other applications.
The startup showcase will include startups from the top Silicon Valley venture funds  who will present their disruptive technologies as part of a judged competition. There will be sign-ups for eight financial technology companies where you can visit their Silicon Valley headquarters for private briefing sessions and networking opportunities.
There will be so many incredible minds converging to participate in this fintech event. I'm looking forward to listening to other industry leaders share their insights, including Chris Britt of Chime, William Hockey of Plaid, Stephen Dash of Credible, Brock Blake of Lendio, Aaron Vermut of Prosper, Louis Berylof of Earnest, Sasha Orloff of LendUp, Charise Flynn of Dwolla and more.
Be sure to join me at this event! You can register for the Banking Disrupted Silicon Valley Leadership Summit on Eventbrite. In the meantime,  checkout a copy of the current agenda that I've posted below:
SUMMIT AGENDA – DAY 1: APRIL 19TH
Opening Remarks
Andrey Kunov -President, Silicon Valley Innovation Center
9:15-9:45am
KEYNOTE ADDRESS
9:45-10:45am
Panel 1: The New Wave of Fintech: The End of Banking?
Instead of trying to improve an outdated legacy system, certain companies are focusing on reinventing the entire experience of banking from scratch. In our opening panel, true disrupters, entrepreneurs, hottest fintech companies will share their novel vision about the future of banking.
SPEAKERS:
Fintech
CEOs: payments, lending, remittance
10:45 – 11:15am
Coffee and Networking
11:15am – 12:15pm
Panel 2: Unbundling The Bank: The Latest Trends
We will discuss the biggest new trends in the financial services space with top fintech companies efficiently exploiting niches underserved by traditional institutions. Entrepreneurs will share their insights on how they are filling the gaps that traditional banking has not been able to fulfill.
SPEAKERS:
Executives from the top fintech startups: payment processors, credit and financial management
12:15-1:45pm
Lunch and Networking
1:45 – 2:45pm
Panel 3: Millennials as Customers: In Tech we Trust
Millennials will make up the majority of the workforce in less that 5 years. According to a recent study, 73% of them would rather handle their financial needs with a technology company rather than with their own bank. This panel aims to explore how generation Y brings a whole new set of demands Young tech leaders will share what type of client experience they expect from the industry.
SPEAKERS:
Millennial startup CEOs and leading Silicon Valley VCs.
2:45 – 3:45pm
Panel 4: Customer Engagement and Human Centered Design in Digital World
With customer branch visits growing increasingly rare, retail banks need to learn from fintech how to broaden revenue streams. Our panelists will discuss how to design innovative, customer-centric digital experiences to build new revenue channels and amplify growth.
SPEAKERS:
Executives and user experience professionals from leading technology companies
3:45 – 4:15pm
Coffee and Networking
4:15 – 5:15 pm
Panel 5: Fintech "Hysteria": Is This a New Bubble?
It is expected that $40 billion of venture capital money will be poured in fintech startups this year in 2016. Skeptics suggest that there is a strong evidence of a new bubble growing. Our panelists, prominent Silicon Valley investors, will explore the reasons for excitement about this new hot topic and discuss fears of a new bubble.
SPEAKERS:
Top Silicon Valley venture capitalists, business angels
Panel 6: How FinTech is Changing Small Business
For traditional lenders, small businesses are unwanted customers: they are an expensive challenge expensive to monitor, with unstable cash flows and risky business models. Today's financial technology companies are changing the rules of the game with a whole new caliber of sophisticated products. Will traditional players be able to keep up with the rapid new pace of progress?
SPEAKERS:
Leading fintech companies offering innovative products: peer-to-business lending, merchant finance, supply chain finance.
6:15 – 6:30 pmClosing remarks
DAY 2 – APRIL 20TH
KEYNOTE ADDRESS
9:45 – 10:45am
Panel 1: The "Uber Moment" for Banks: Adapt or Disrupt?
Our panelists, well-known innovators in the heart of the banking industry will provide insights on best innovative/creative paradigms and best practices and discuss whether or not banks will be able to reinvent themselves
SPEAKERS:
Top executives from leading banks
10:45 – 11:15am
Coffee and Networking
11:15am – 12:15pm
Panel 2: New Rules of the Game: Partnership Instead of Competition?
Banks are the largest informational companies in the world, yet systems and processes are still antiquated . Our panelists will show how banks may benefit from new technology solutions centered around connectivity, interactivity with customers, real-time decision making as well as automating and digitizing processes
SPEAKERS:
Leading technology companies partnered with banks
Banks technology accelerators
12:15-1:45pm
Lunch and Networking
1:45 – 2:45pm
Panel 3: Beyond Bitcoin: New Blockchain Technologies for Banking
While distancing themselves from bitcoin, major banks agree that blockchain technology is rapidly changing the way finance industry works. Our panelists will discuss how distributed ledger technology is evolving to become more suitable to serve the needs of banks.
SPEAKERS:
Blockchain industry advocates, leading blockchain companies and more
2:45 – 3:45pm
Panel 4: Regulation Technology (RegTech): A New Hot Topic
Legacy core systems and regulatory pressure make banks reluctant to try new technologies. On the other hand, startups with disruptive solutions do not always know which regulations are applicable to their businesses. This discussion will explore the budding space of regulatory technology that is helping both incumbents and newcomers advance by navigating complexity smartly.
SPEAKERS:
RegTech companies providing innovative solutions for identity verification, regulatory disclosures, risk control and customer data management
3:45 – 4:15pm
Coffee and Networking
4:15 – 5:15pm
Startup showcase
Hottest startups from the portfolios of the top Silicon Valley venture funds will present their cutting edge financial technologies.
Judges:
Silicon Valley venture capitalists, business angels, banking executives
5:15 – 5:30pm
Closing Remarks