Since Twitter is yet to offer an alternative to those less savvy with code implementation, I've decided to offer you a WordPress plugin to help you include the official Twitter Tweet button in your blog posts. Download the plugin and from this point on, it's all as easy as 1-2-3.
Current plugin version: 1.1
Supported WordPress versions: Most recent. Pre-3.0 versions not yet tested.
Twitter Button WordPress Plugin Options
To easily adjust and include the Twitter button in your blog posts, you have a plugin administration panel. Here's a screenshot of the options: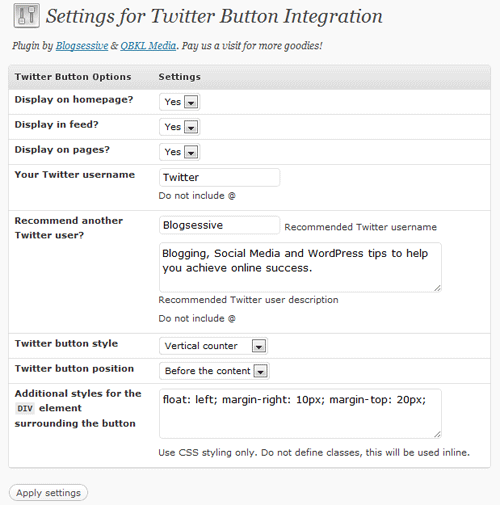 Download the Twitter Button WordPress Plugin
Click here to Download the Twitter Button WordPress Plugin
Plugin Updates
Version 1.1 has been released. Download link is still the same (above). Fixed a bug that prevented recommendations to be displayed. Please re-download and re-upload. No need to deactivate the plugin. Just overwrite the files in order to keep your settings.
Known issues
Since Twitter did not offer an image based alternative to the button and counter, feeds will only display a CSS styled Tweet button without a counter. As soon as Twitter completes their API, I will also implement it in the plugin.
* Support for the 'Twitter Button for WordPress' plugin will be offered only through the comments. Thank you for downloading and enjoy your new retweet button!