If you're a blogger, by now you have already found out that the majority of your blog's traffic comes from search engines and social media & bookmarking sites. There is a lot of information available on any of these two traffic sources to help you get started in either optimization you choose to make, although I would suggest you do both, to diversify your incoming traffic.
I know that for many start-up bloggers, the blogs they manage are probably the first contact they had with a website from the role of an administrator, and surely the first contact they had with the concept of SEO (Search Engine Optimization). In terms of blog optimization, I have shared with you a few articles in the past that offer a good range of blog SEO tips, so, in case you need to refresh your memory, feel free to go through them again.
The problem is that even with the available information, those new to the concept of SEO tend to try anything and everything, without taking the time to decide what's best and what could actually damage their rankings. In what follows I'm going to present a list of the top SEO mistakes you must avoid.
SEO Mistake #1 – Ignoring Basic Search Engine Guidelines
From my point of view, this is the biggest mistake a SEO beginner could make. SEO is a set of actions meant to improve search engine rankings, so the most important thing would obviously be to first check out the targeted search engines' quality and submission guidelines. Here are the links to the guides of two of the most important search engines, Google and Yahoo:
Google SEO & Quality Guidelines
Yahoo SEO Guidelines
Any further SEO actions you take should abide by the above guidelines. After all, is their "approval" you're seeking.
SEO Mistake #2 – Not Having a Keywords Strategy
There is one common mistake that people do and it's about the way they understand the concept of using keywords. Keywords are not what you would want you're website to be found for, but what your website could show up for in relation to its content.
I've seen hundreds of websites with that keywords META filled with the most incredible and unrelated words and phrases, most times on the homepage. It's a mistake to target numerous keywords and actually diminishing that chances to succeed with either one of them.
The development of a keyword strategy is done in strong relationship with your blog's structure. Just like your blog's homepage is a gateway to more detailed content topics, so should be its keywords and the keywords of its subpages, categories and posts. Focus on choosing keywords that go hand in hand with the actual content and topics you approach rather than keywords that you'd think might be representative.
Work from your homepage downward in your blog structure, going from more general keywords, to very specific keywords as you get to the posts, like in the diagram below: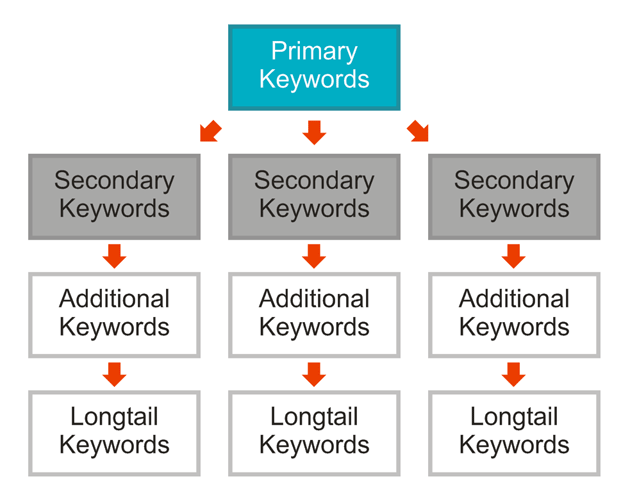 Here are 3 past articles you might find useful when it comes to developing and maintaining a keyword strategy:
How to check and improve your WordPress SEO
Using Keywords for Blog Optimization
Advantages of Long Tail Keywords Optimization
SEO Mistake #3 – Ignoring the title tags (H1, H2, H3, H4…)
When writing and publishing blog posts, many ignore these HTML heading tags. You've probably seen that I use them in most of my posts, and not only for optimization reasons. They also help your readers better follow the post's structure and ideas.
Use appropriate keywords inside these tags. The search engine bots give special attention to these headings and continue to "read" your content based on the information found inside them. It builds up relevancy.
Also, a look at how your theme uses heading tags, SEO wise, would do good too.
SEO Mistake #4 – Too much focus on one of the optimization elements
Due to not filtering the incoming information on SEO, some people make the mistake on focusing too much on optimizing the meta tags, or the titles, or the body text of posts. Optimization is a process that should cover all aspects in a very close relationship.
Once you've decided which keywords to use, make sure you optimize your page title, META's, subheading, body text, links, alternate (ALT) text on images and so on. The more consistent the whole page looks in terms of optimization, the better the chances of a higher ranking.
SEO Mistake #5 – SEO is Not a One Time Process
No Sir, it's not! It's a matter of trial and error, of research and observation of evolution. Don't make the mistake of resting at peace once you've finished optimizing a page or website. Check the results from time to time, adjust your keyword strategy if necessary. You don't have to do this only because search engines change algorithms. You have to do it also because you're definitely not the only one targeting those keywords, assuming you're targeting competitive ones – otherwise, what's the point?
Research -> Analize -> Experiment. It's the only path to success, in any field.