Gone are the days of shelling out an average of $64 per month for a cable package full of junk that you'll never watch. With an internet connection, you can essentially 'cut the cord' and be cable free. In fact, this has become such a phenomenon that the big cable providers are finally getting wiser and beginning to offer up package deals that appeal to your taste and even alternatives to cable TV through streaming.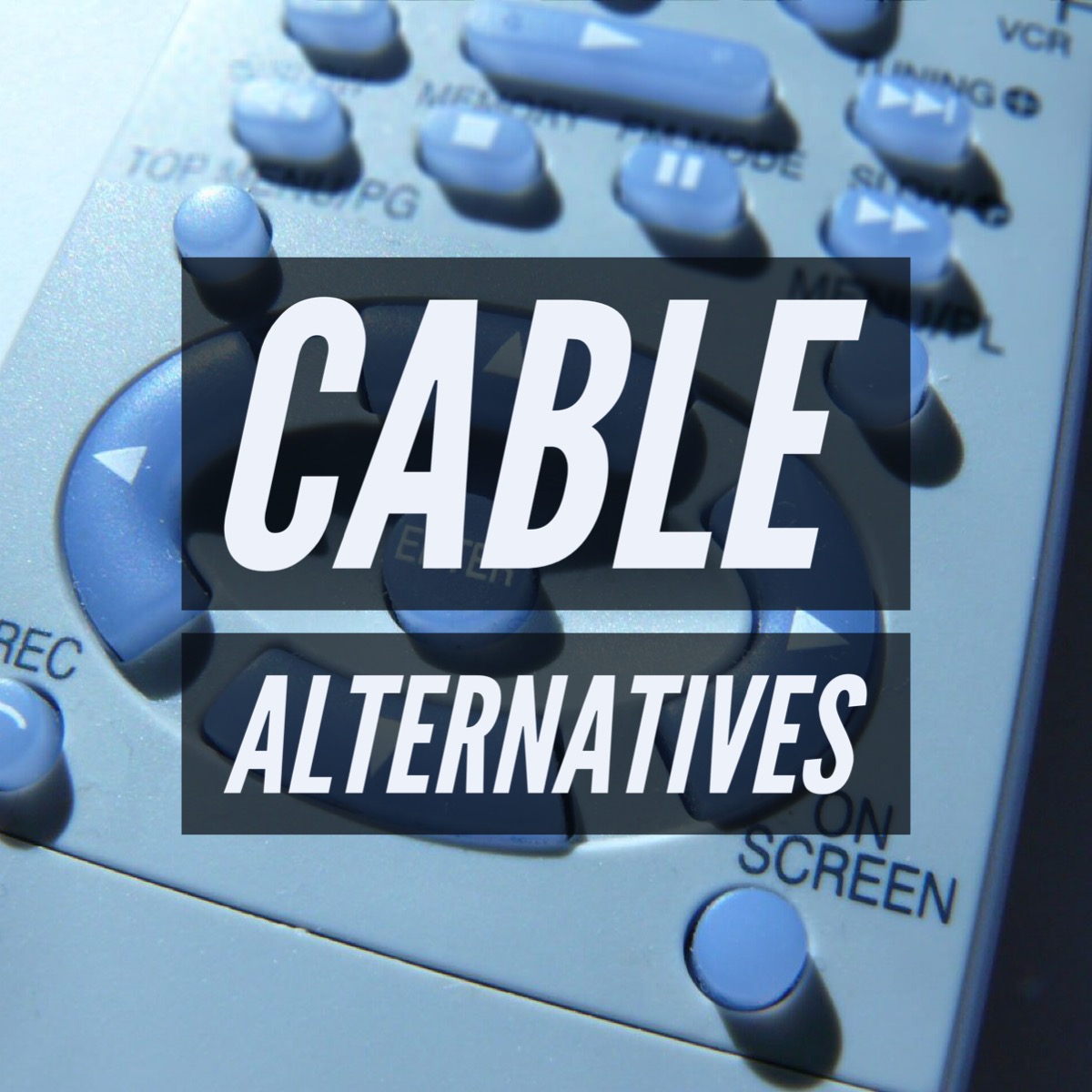 The thing is, they're already behind in the game – thanks to these popular and efficient alternatives to cable.
If ESPN has been the main reason why you haven't cut the cord, then you can finally go ahead and get out your scissors thanks to Sling TV. For just $20 a month. Sling TV provides 65 live television channels from ESPN, AMC, CNN, TBS, Disney, and HGTV. For an additional $5 per month you can add on packages that fit your interests, whether it's sports, entertainment, or world news. And, HBO can be added for $15/month.
One of the best features about Hulu is that you view a television shows from ABC, the CW, Fox, and NBC the day after they air. But, subscribers also have access to series from other networks like Comedy Central, Nickelodeon, and MTV – to name just a few. There's also a deep back catalog of classic TV shows and movies, and quality original content, that will keep you entertained for hours You can add-on Showtime for an additional $7.99/month.
Hulu offers a limited free version, so you'll probably have to go with the $8 per month plan.
If you're a regular Amazon customer and signed up to become a Prime member, which costs $100 a year, then you also have the ability to watch thousands of movies and televisions shows with your account. Amazon has also been delivering top-notch and award-winning original series like "Transparent" too. And, if you own a smart TV, the remote already comes equipped with a button that will take you directly to Prime Video.
Netflix was a great idea. They sent you DVDs in the mail. The company has since become known for being one the best streaming options for cord cutters. At just $7.99 per month Netflix has an almost endless amount of TV shows and movies that will ruin your weekends because you'll be binge watching "Breaking Bad." And, the service has been stepping up its game in regards to original content. The most high-profile example is the deal with Marvel which has already delivered "Daredevil" and "Jessica Jones." Netflix also brought back "Arrested Development," and has more original series, movies, and documentaries than you'll know what to do with.
Full disclosure here: I'm not one of those people who believe that Apple can do no wrong. But, it seems like the company has finally figured out Apple TV. I really love my new Apple TV. Now known astvOS, Apple is completely embracing the idea that "The future of TV is apps." On top of having access to your iTunes account, Apple TV gives you the power to stream content from Netflix, Amazon, Hulu, and YouTube. And, you can also watch live content from CNN, ESPN, and ABC through apps, along with live MLB and NBA games. If that wasn't enough, you can order HBO, Showtime, and even play your favorite video games on your TV.
Roku is a streaming device that lets you watch Netflix, Hulu, Amazon, YouTube, and add-on HBO and Showtime. It also comes with free networks like Crackle, Vevo, PBS Kids, and the Smithsonian Channel. You can even listen to Spotify and rent or purchase individual shows or movies. There's no monthly fee with Roku. You just have to purchase either a streaming stick or player which start at around $40. If you have a gaming console, like a Playstation or Xbox 360, you can pretty much use them as a steaming device as well.
7. Network Websites and Apps
You've probably figured this one out, but you can watch plenty of TV shows directly from their website. For example, most of the major networks like ABC, NBC, CBS, Fox, and PBS, allow you to watch your favorite shows almost immediately after they air. Comedy Central hosts "The Daily Show" the following day. This is a great option for those who tune-in to network television and can't wait weeks or months to watch their favorite shows. While this is also a free route to go, these shows aren't usually aren't posted for that long. Additionally, networks like CNN and ESPN have apps so that you can stream live content on your desktop or mobile device.
8. A La Carte
Most cable packages, and even streaming services, come loaded with a bunch of shows that you'll probably never get around to watching. If you only watch a limited amount of shows or movies, your best bet would be to go with an a la carte method. This means that you purchase or rent the content that you only want to watch once. On iTunes you can watch TV shows for $1.99 per episode and rent movies for $2.99.
9. HDTV Antenna
Believe it or not, you can still go old school and use a TV antenna. This may be the most reliable alternative (it depends where you live), but if you purchase an antenna, which can range from $4 to $55, you can watch pretty much all of your local networks for free.
If you paired this with let's say Netflix, Amazon, or even HBO Go, you could probably cut out cable entirely since you'll still have local networks and shows/movies from most of the cable networks.
10. Local Library
If you don't have one yet, go out and obtain a library card. Besides the obvious collection of books that you can check-out, you can also find DVDs of popular television shows and movies. Best of all? It's all available for free.