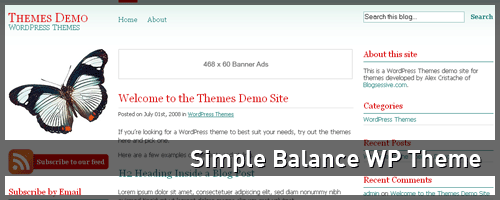 Update
Simple Balance 2.0 is out. Download link for version 1.0 has been removed. You should definitely see what version 2.0 has to offer!
Simple Balance theme is a 3 column widget-ready WordPress theme. Some of the features include:
Widget-ready left and right sidebars;
Top 468×60 ad space;
Right sidebar built-in ad space for 125×125 banners;
SEO smart coding for titles and content;
WordPress 2.5 ready;
Valid cross-browser tested XHTML and CSS;
Possibility to fully display the latest X posts on homepage instead of the post excerpt (to prevent duplicate content issues);
Not to forget, beautifully balanced design;
Since this is version 1.0 expect some changes in future versions to make this theme even more appealing. Suggestions are kindly appreciated.
Enjoy the Simple Balance theme!
Preview and download
You can preview the Simple Balance 2.0 theme on this demo server.
If you use and enjoy this theme, you could consider a PayPal donation of your choice: