No matter what size your business is, online marketing is kind of a big deal. In fact, the Content Marketing Institute has reported 93% of B2B marketers are currently using content marketing. While that's welcome news for online marketers, it's still a relatively new field that isn't fully understood by all marketers. In fact, in 2013, only half of marketers were confident in their digital ability. And in 2014, only 35% of marketers were using and tracking their content marketing efforts.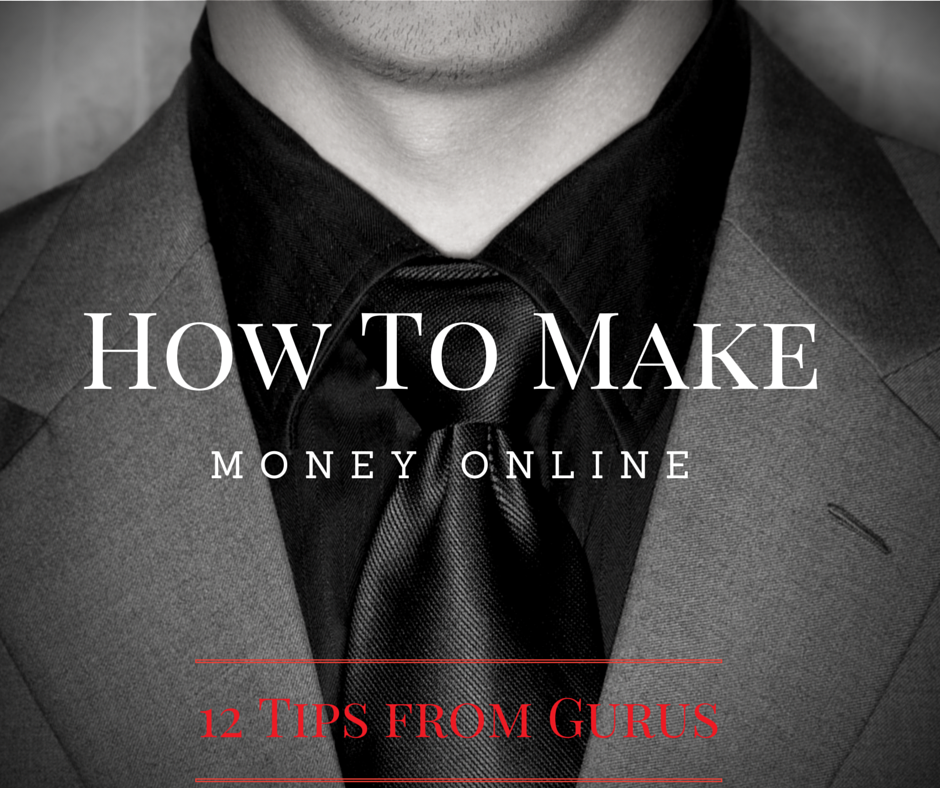 That doesn't mean, however, that people aren't making money online. A lot of people are. And you can, too, if you follow the advice from these twelve marketing gurus.
When you can take the family store from a $3 million-a-year business to a $45 million a-year-business thanks to the power of e-commerce, you can definitely command respect. Since 1997 Gary Vaynerchuk has used online content to not only build Wine Library TV, but also assist brands like GE and PepsiCo with their online presence.
Coming directly from his own site, Gary shared why self-awareness is important for e-commerce businesses.
"The truth is (and has always been, and will always be) that it starts with self-awareness. It starts with really breaking yourself down. The only real gift I have is that, for some unknown reason – be it great parenting, or great DNA – I've always known exactly what I was good at. I never worried about what I was bad at. It never even dawned on me to work on my weaknesses. Sure, I wanted to round out some things, fix some things to bring them up to some kind of average and make them consumable. But I've never ever thought about taking someone's advice on how to execute. It's always just been my way. I bought into what worked for me."
While employed at architecture firm in 2007, Pat Flynn noticed that no one in his department was taking advantage of Leadership in Energy and Environmental Design (LEED). The reason? The exam was extremely difficult to pass. Pat realized this opportunity and created a blog to help people study for the exam. Pat has since championed "passive income," with 12 websites and an accumulated 100,000 email subscribers.
During an article in Forbes he provided this nugget of advice:
"Where a lot of people mess up is they try to build a business or create a product that serves everybody, and by trying to serve everybody, you serve nobody. You have to specialize and niche down and find a market with a pain point that you, based on your experience, based on your education and based on your passion, can help,"
As CEO of Owner Media Group, New York Times bestselling author, and acclaimed speaker, Chris Brogan has proven that he is one of the best authorities at "owning the game you most want to win."
During a conversation with PicMonkey, Chris suggested that you embrace being a freak.
"To me that's the fun: the idea that you can be a bit of a weirdo and still make a dent in the world."
There's a reason why The Wall Street Journal has named Neil Patel a "Top influencer on the web". Besides founding influential websites CrazyEgg and KISSMetrics, Neil has helped brands like Amazon, as well as online marketers in general, increase their revenue.
One topic Neil frequently discusses is the importance of blogging. On a post on his site QuickSprout, Neil notes that you should practice "target blog posts". To accomplish, your post should contain:
Review the current strategy the company employs.

Outline what they are doing wrong and how they can fix it.

Prioritize the feedback based on what will have the biggest impact and is the easiest to fix.

Use data to back up your claims. If you don't have data, use examples of other sites within the same industry that are doing it right.
Known as the "The E-marketing Maven", Sarah Zeldman has the experience and knowledge to help brands perfect their Internet marketing needs – which is evident with the success of her blog Solutions for Busy Moms, which she founded in 2006.
While most of us are aware that social media is a great resource for online marketers, Sarah makes the argument for marketers to use Twitter. On a post from her blog, Sarah notes that Twitter is easier to learn than Facebook and LinkedIn and it can grow followers faster than other social networks. She also shared a study from Forbes that found that "Twitter is the strongest social media channel for generating business-to-business (B2B) leads, outperforming Facebook and LinkedIn 9-to-1 with 82 percent of social media leads coming from Twitter."
As a former adviser for Google and chief evangelist of Apple – and current evangelist of Canva – Guy Kawasaki is a bestselling author who has become one of the most respected sources for marketers looking to improve revenue.
During an interview with AllTop, Guy stated the following:
"The only tip that really matters is this: Market something good. That's the secret. It's very hard to market a piece of crap. It's very easy to market something good. I believe all marketing is based on good products and services."
Known for his New York Times bestseller, The 4-Hour Workweek: Escape 9-5, Live Anywhere, and Join the New Rich, Tim Ferriss has become model for all marketers seeking inspiration.
During a conversation with Michael Ellsberg of Forbes, Tim provided this interesting tidbit:
"I always point people to the article '1,000 True Fans' by Kevin Kelly. If you choose your thousand ideal customers or readers properly and find the single author blog that targets that audience, you never have to do any more marketing. You're done. That is a lesson that very few product developers and marketers have learned, and it's unfortunate."
If you're involved with any sort of marketing, then you should be following the advice of Seth Godin. As the author or 17 books, this entrepreneur, speaker, and marketer has provided some of the most influential advice to date – especially on his popular blog.
Speaking of his blog, Godin explained why user feedback is so vital for marketing.
"If you know what's broken, you can fix it for all the customers that follow. It seems obvious, but you want to hear what customers have to say. After all, if people in charge realize what's not working, the thinking is that they might want to change it."
Yaro Starak is the founder of Entrepreneurs-Journey.com and has developed a simple and effective business model that consists of starting a blog, growing an email newsletter, and selling your own products online.
During an interview with [email protected], Yaro detailed three fundamental aspects of making money online. The first idea is creating consistent, quality content. The second idea is gaining traffic through promotion. The third and final component is testing the different monetization options.
Yaro further explains that:
"All you have to do is find different ways to make money, put it on your blog, and see what kind of results you get. If it's not a good result, try something else. Just keep testing until you find the best combination of monetization options for your particular blog."
After leaving the firm Arthur Andersen to help revitalize his family clothing business in 1994, Rich Schefren has since taken his marketing skills into the world of internet marketing. In 2004 he founded the consulting firm Strategic Profits with the purpose of helping internet marketers achieve profitable.
Schefren suggests on Home Business Hangout that prior to selling anything, you need to gain the attention of prospective consumers by producing free content. Rich notes that you can accomplish this by doing the two following techniques:
First, you need to think about your product's BIG promise. So ask yourself: What BIG promise does my product make? What BIG problem does your product solve for your prospects?

Next, what does your prospect need to be thinking, believing, or feeling to spend their hard-earned money for that BIG promise?
Laura is the co-founder of the consulting firm Ries & Ries, author of Visual Hammer, and has been named a "management guru" by Business 2.0. Her experience in marketing has led her to believe that marketers have to narrow their focus.
In an excerpt from the  Branding Rules eBook, via Cision, Ries notes that this done by doing the following:
"You might think your brand is terrific for 14 reasons, but that won't get your brand into the mind of the consumer. You might think you want to expand in 14 different ways, but that will dilute and diminish your brand in the mind of the consumer.

Not being focused is the single biggest problem facing businesses today. To be successful at building a brand, you need to think as narrowly as possible. And you need to stay as narrowly focused as possible to keep that brand strong. Want to expand? Launch a new brand that's focused."
After discovering an article about "blogging" in 2002, Darren Rowse became one of the first to tackle blogging in 2004 after launching ProBlogger. Today, Darren is one of the most trusted authority figures in blogging and online marketing.
During an interview with Blogging Tips, Darren shared how he monetizes ProBlogger.
"That blog has a number of income streams. I initially monetized it with AdSense and Amazon affiliate promotions, but after a couple of years added other income streams including using other ad networks, selling ads directly to advertisers, affiliate promotions of other people's photography eBooks, courses, and software and then creating my own eBooks to sell.

These days the main three income streams are our own eBooks which we now have published 15 of, direct ad sales and affiliate promotions of other people's photography products (mainly teaching products)."
As content marketing continues to rise in popularity, the true leaders are rising to the top. If you are struggling to build confidence, look to these top experts for guidance. Content marketing isn't going away – it is time to get on the band wagon.