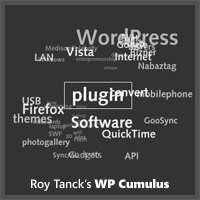 Roy Tanck's flash tag cloud WordPress plugin – WP Cumulus – is the perfect tool for those of you who want a cool flashy gadget on their blog. From Roy's provided information, this plugin should not affect the SEO score of your blog, since it will deliver the WordPress classic tag cloud to users that don't have the Adobe Flash Player installed.
It easy to install, customize and implement and works exactly like a normal WordPress tag cloud, only with some nice effects for the tag navigation. A fully functional demo can be seen on the Roy Tanck's blog, as well as the plugin download package.
So, all you blogsessed people out there, give this flash tag cloud a spin and tell us what you think about it!