In yesterday's post I have shared some light on two of Facebook's most attractive features for bloggers, the Facebook Like and Facebook Share buttons. While the decision of which one of the two use is your own (though the general answer seems to point to "Like"), today I'm going to talk about another feature that Facebook has improved and re-released back in June: Facebook Insights.
Through Facebook Insights you can gain free access to a whole bunch of highly useful information about your users' behavior, their like/share habits and pretty decent demographics analytics, since Facebook uses their own user profile system to provide the information (and we all like to fill in our profile info, right?).
While Facebook Insights provides analytics data for Facebook Apps too, for bloggers probably the most interesting segments of this data are those that reflect the users' like/share/reshare habits on Facebook accounts attached domains and the Facebook Pages created by their owners.
Getting Facebook Insights for your domain
Attaching a domain to the Facebook Insights is a straight forward job. All you have to do is to access the Facebook Insights dashboard and follow the 3 easy steps described in the image below: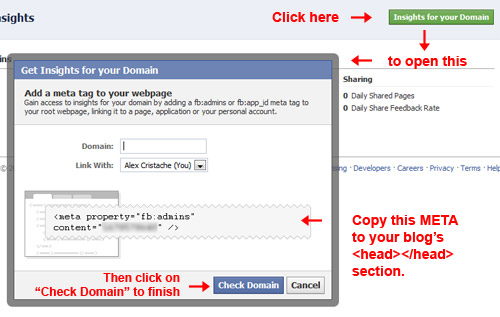 Once you've completed these simple steps, you'll gain access to a set of domain overall analytics data, as well as per URL data, by request, by entering the desired URL from your domain in a classic input box. Here are some eloquent screenshots of the data the Facebook Insights provides: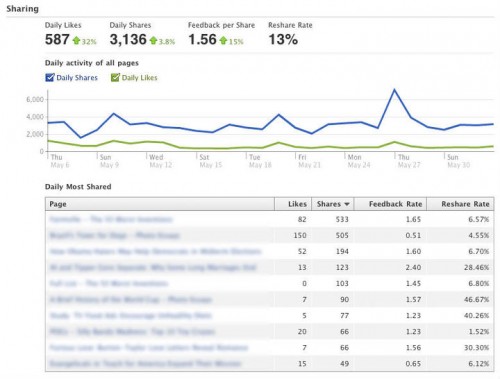 Facebook Insights: Likes vs. Shares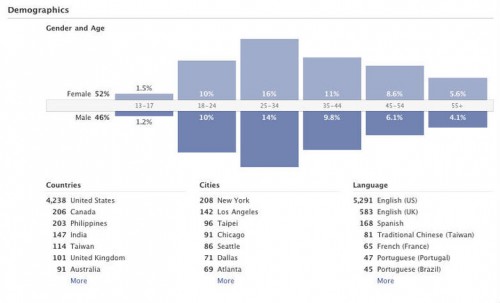 Facebook Insights: Demographics Analytics
With Facebook Insights, your choice is easier
Now you have a better tool to help you decide which button works best for your blog: Facebook Like or Facebook Share. Although my personal favorite is the Like button, I'd recommend using both of them for a while and simply compare in the Facebook Insights dashboard which one performs better, and only take a decision after you've come to a strong conclusion.