The niche of blogging tips is a crowded one and no wonder it's that way. Blogging is so "the new black". It gives you freedom, the perspective of making a few (or more) bucks and why not, for some might be just a way to vent. So, what better way to reach a constantly growing and renewing audience than by providing tips on how they should blog. The problem is that sometimes bloggers in this niche forget to be original and get stuck in the same circle of clichés.
Let me take you through my personal top 5 list of the most annoying blogging clichés.
5. Content is king
I'm pretty sure I'm not the only one that reads this almost daily on some blog or Twitter. It gives me the feeling that people keep on discovering the wheel over and over again. We all know that content is king, but there's so much more beyond that. How many or the articles you read on this topic go further into exploring the ways to give your content the deserved spotlight? My take is that without due promotion, aesthetics and a good network, your content is nothing but a king without a kingdom!
4. How to overcome a writer's block
Are there any more ways to overcome a writer's block? I've read so much advice on this, but fact is you only need to know/do 3 things:
Step aside from what you're trying to write.
Get out of the house, do something different. There's life outside blogging too!
Ask other people for their opinion. You might consider it or not, but a fresh perspective is always welcome.
Other than this it's all a matter of personal habits, of things we love to do and things that relax us.
3. Top X lists
He he, I know I'm guilty, but can you blame me? We all love lists! The trick is to know how and when to do another list post. Lists are such an easy way to get some new content published without worrying too much about creative writing, but please don't overdo it. Have a good balance between in depth articles that will encourage your readers to think and react and list posts. Consider them a way to give your readers a moment to breathe.
[adsenselinks]
Also, make sure you don't copy other people's lists, which is hard because lists are about mass-appeal, and if you chose a topic, chances are other bloggers have already been there and already done that, most probably in just the same way.
2. (How to) Make money blogging
Hype. Everyone wants to be the next 6 figure blogger (hate the term) and so many people state they can help you. Fact is, even if they could, they rarely do. I mean, have a look around at most of the crowned kings in the make money blogging niche and answer me this: how factual are their tips. Or better yet, how many tips, other than generic stuff they share? It's all about "I'm affiliate to this, I'm affiliate to that, try it too." Of course, through their affiliate links. I'm not saying you cannot make money online (God, please don't smite me!). I'm just saying that there are only a few things you need to consider and not expect someone else to do it for you:
Put great content out there. Nobody gives a poop (stop smiling, I'm just using decent language!) about how much you make if you don't help them make that too.
Try out different services. Some will prove to be money makers, some won't, but there's no generic recipe that will fit every blogger and his unique blogging style and topics, and most importantly their particular audience.
Network like crazy! It's the one big secret you rarely read, but if you watch closely, networking it's all there is to it. Call it affiliate marketing, call it promotion, call it whatever you want. In the end it's still multi-level marketing and it cannot be done without strong partners and happy followers!
Or, you might just want to create a brand for yourself that you can leverage to promote and distribute your own products, but that's a path that requires work and where the fun in that when we could just expect money to fall from the sky.
And now for my all time favorite…
1. Stand out from the crowd!
I'm guessing I should be in perfect health right now from all the standing gymnastics I've done. No really, how many times a week do you read this? I know it sound nice, it even rhymes, but seriously, ain't that the reason you blog about blogging, to help your readers achieve uniqueness and greatness? Should you add another generic "stand out from the crowd" post just to catch a damn long-tail keyword in search engine rankings?
Every time you use a blogging cliché…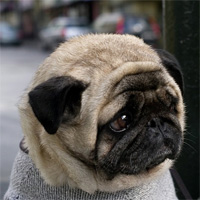 You'll make Mr. Newman sad, and seriously, see for yourself how sad he already is!
Jokes aside, consider this post as an advice to keep away from the blogging clichés. I know it's hard since the niche is crowded and topics tend to come back into spotlight regularly, but if you must write about it, please try and get a fresh perspective or at least add some depth to your perspective. People rarely get down and dirty dissecting topics because using a cliché is just that: an easy way to get something out there. Why would you want to complicate your life? Really? Then I'd ask you: Why would you want to waste my time making me read the same over-recycled content?
Over to you
Tell me which are the most annoying blogging clichés you've come across in your blogging adventures? Drop me a comment, or better yet, write a post about it and give it a nice twist. Link it back here and if it's really interesting I'll include it in this post as a sample of "what others think".
The cute sad pup in this photo is Bob aka Mr. Newman, which unfortunately passed away (one more reason not to upset him) and the shot was taken by Christopher Michel